Put our porcelain experts to work for you. 
We're 100% dedicated to the material, fabrication, and installation of large-format porcelain (5'x10′). 

Watch Moderno Porcelain Works on Rock the Block
HGTV's Rock the Block invites Moderno's Denver team to participate in the biggest renovations of the Rockies. Get the weekly recap here. Don't miss it!
Watch Mondays at 9/8c on Discovery+
PORCELAIN – IT'S ALL WE DO.
Moderno Porcelain Works is the only North American surfacing company 100% dedicated to the fabrication and installation of large-format porcelain (5' X 10') slabs. We are the industry leaders, innovators, and artists, solving your design challenges through precise craftsmanship, ongoing communication, and true partnership. If you can dream it, we can do it – in wondrous, versatile porcelain.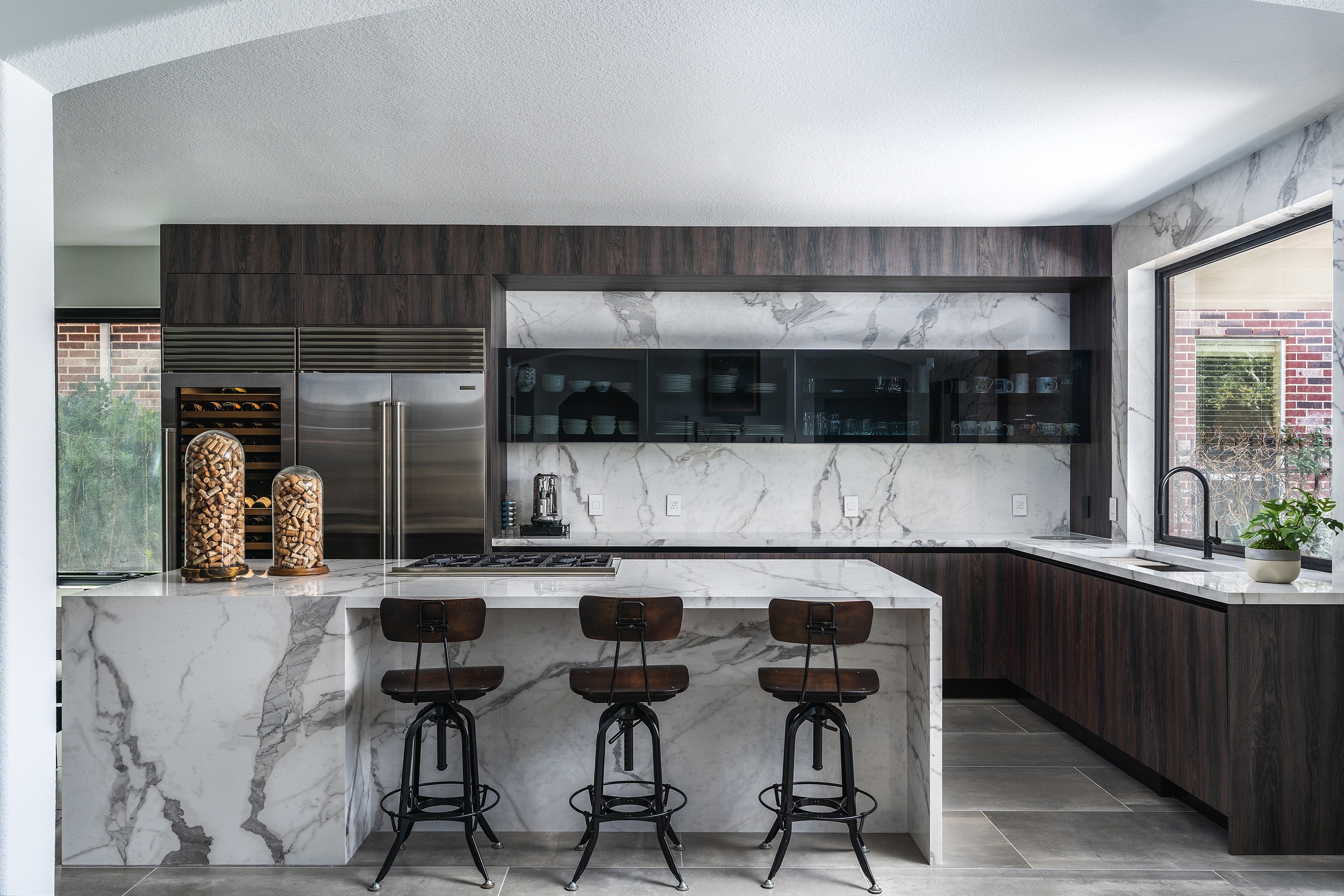 We offer a turnkey solution to any large-format porcelain surfacing project and manage each project from planning to installation.
Visit our showroom to view the full 5'x10' slabs, or let us bring samples to your location. Our specialists consult with you and your project team to determine the scope of work and plan for a seamless, efficient installation.
Our fabrication and installation teams are the industry experts in large-format porcelain. We achieve magnificent results utilizing innovative cutting technology and Moderno's proprietary assembly and installation process.
Our fabrication facilities feature automated cutting, shaping, and polishing machinery enabling us to fabricate porcelain projects efficiently. Our fabrication teams meticulously build each project in-house while finalizing detailed cuts onsite.
Our team includes crews who specialize in specific areas, such as countertops, walls, floors, and exterior cladding to make sure your project is staffed optimally.
We currently stock 15 porcelain colors. If one location doesn't have your selection, we can work with one of our other locations for your desired material. We also partnered with 17 porcelain manufacturers to provide an additional extensive color selection.
Indoor & Outdoor
Wall Cladding
Porcelain cladding is ideal for style-savvy homeowners looking to make the most of their living spaces. Exterior wall cladding provides a degree of thermal insulation and weather resistance while improving the appearance of the building.
Porcelain is baked at extreme temperatures to ensure density and very little porosity. Using large-format porcelain ensures your floors will not stain, rarely scratch, and have fewer seams and grout lines.
Porcelain is naturally hygienic and resistant to stains and can be cleaned with harsh chemicals. In combination with being stronger than other stone surfaces, porcelain is a perfect option in kitchens and bathrooms.
Furniture to TV niches - you wouldn't believe what we can make out of porcelain. Send us your porcelain ideas!
U.S. Green Building Council recognizes porcelain as an environmentally friendly product. Porcelain is a man-made material and promotes sustainability, unlike granite or marble.
Much like an artist, not everyone can do this.
In commercial and residential spaces, Moderno's proven proprietary fabrication and installation process allows us to expand the possibilities of porcelain. Through precise measuring, our experienced porcelain craftsmen ensure flawless results.
We create a seamless customer experience from selecting the porcelain to installation and warranty; our team is attentive to every detail and is readily available throughout the project.
Experienced, Expert Craftsmanship
In-house rigorous training program completion is required for employment in all positions


Each lead installer brings 10+ years of surfacing industry experience to each project


Always America National Standards Institute (ANSI) compliant
Modern Porcelain Technology
Utilizing 3D laser measuring systems to capture precise measurements, creating architectural-ready digital files 


Operating specialized advanced fabrication machines, the first of their kind


Proprietary installation methods eliminate common constraints and mistakes
We offer our fabrication and installation expertise for large-format porcelain provided by leading manufacturers and distributors. We give customers flexibility and a beautiful variety of options to choose from for any surfacing project.
I designed my bathroom remodel to include marble integrated sinks; at the last minute, my stone fabricator said it was too hard and they were not willing to do them. I scrambled and stumbled upon Moderno Porcelain Works. I was honestly a little hesitant about porcelain, but in my desperation, I made the leap. The sink is an absolute show stopper and is everything I dreamed of! It looks EXACTLY like marble...Highly recommend!
I can't say enough good things about the entire Moderno team! From our sales rep, Steve Chambless is AMAZING, to the back office team and the entire installation crew! Not only did they make the process easy, what would normally be a high stress remodel wasn't stressful at all! The product stands for itself, but what makes Moderno Porcelain Works stand out above all their competitors is the amazing customer service both before the sale and after!
I am a high end custom residential contractor. Moderno provided and installed porcelain tops on a project out of state for them. They stayed as long at it took to complete the job to our total satisfaction. Although we had a misunderstanding of scope, they honored our agreement and acted in the most professional manner. Kudos to the great fabrication and installation crew. They are a pro's pro. 5 stars!
They really do deserve a five-star rating. The quantity of stone is amazing and the quality of their work is excellent. As an interior designer, I appreciate their professionalism. As an individual or professional, you will get the highest quality of service. I highly recommend Moderno Porcelain Works. Alfredo gave me more than five-star service, even on my small job.
Moderno Porcelain Works now offers financing, enabling you to renovate in a timely fashion. Remodel your kitchen, bathroom, fireplace surround, and other home spaces at the same time with our easy financing plan.