Moderno Helps Set the Trends in Episode 1 of HGTV Rock the Block
This season of Rock the Block premiered on Monday, March 6th with four teams renovating identical homes in Berthoud, Colorado. Landmark Homes built each 5,000 sqft home estimated at $1.9 million. The teams were in pairs:
Michel Smith Boyd and Anthony Elle from Luxe for Less,
Mitch Glew and Page Turner from Fix My Flip,
Jonathan Knight and Kristina Crestin from Farmhouse Fixer,
and Bryan and Sarah Baeumler from Renovation Island.
Each team was given a $250,000 budget to remodel for the next six weeks and this episode will be judged by last season's Rock the Block winners, Dave and Jenny Marrs from Fixer to Fabulous.
In episode one, the teams had seven days to remodel the kitchen, dining room, pantry, and mudroom with the option to do the adjacent study and powder room. Some chose to turn the adjacent study into an extra kitchen for hosting, and others chose to merge the mudroom and laundry room.
Each week, a winner is chosen for that specific project and granted extra money to use toward their remodel. This week's kitchen remodel winners took home $1,000 for next week's Living Room Face-Off.
Moderno Team Seen on HGTV
During this episode, you can find Moderno Porcelain Works working in Michel and Anthony's Moderno Mountain home.
Michel and Anthony used Moderno Porcelain Works to fabricate and install Levantina Marvel Gold large-format porcelain in the kitchen, mudroom, and laundry room. Michel said, "We want to be ahead of the curve, we're supposed to set the trends and not follow them." The duo's objective was to use the architectural approach by combining large-format porcelain with wood finishes to achieve a sexy, modern look.
Moderno Porcelain Works also installed the kitchen's backsplash and vent hood with large-format porcelain for Jonathan's and Kristina's home.
Why Use Porcelain in the Kitchen?
Porcelain can be manufactured to look like marble, wood, metal, patterned design, and any other material to fit your aesthetic. Besides the design and visual wow factor, large-format porcelain has many advantages such as scratch, stain, and heat resistance. 
Whether you're turning up the heat in the kitchen or cutting directly on porcelain, it's made to withstand it all. Porcelain is also UV and thermal shock resistant. Outdoor kitchens with large-format porcelain countertops outperform other surfacing materials. They can withstand extreme temperatures and will not yellow or discolor over time. 
Architectural Meets Interior Design with Porcelain
Kitchen backsplash, countertops, and islands can match while still providing practicality and functionality. Porcelain can be fabricated to look uniform; vein flow can stretch across an entire island and countertop or added as a statement piece with vein or book-matched slabs. Regardless of the pattern, porcelain's size (5'x10′) ensures continuity across the surface.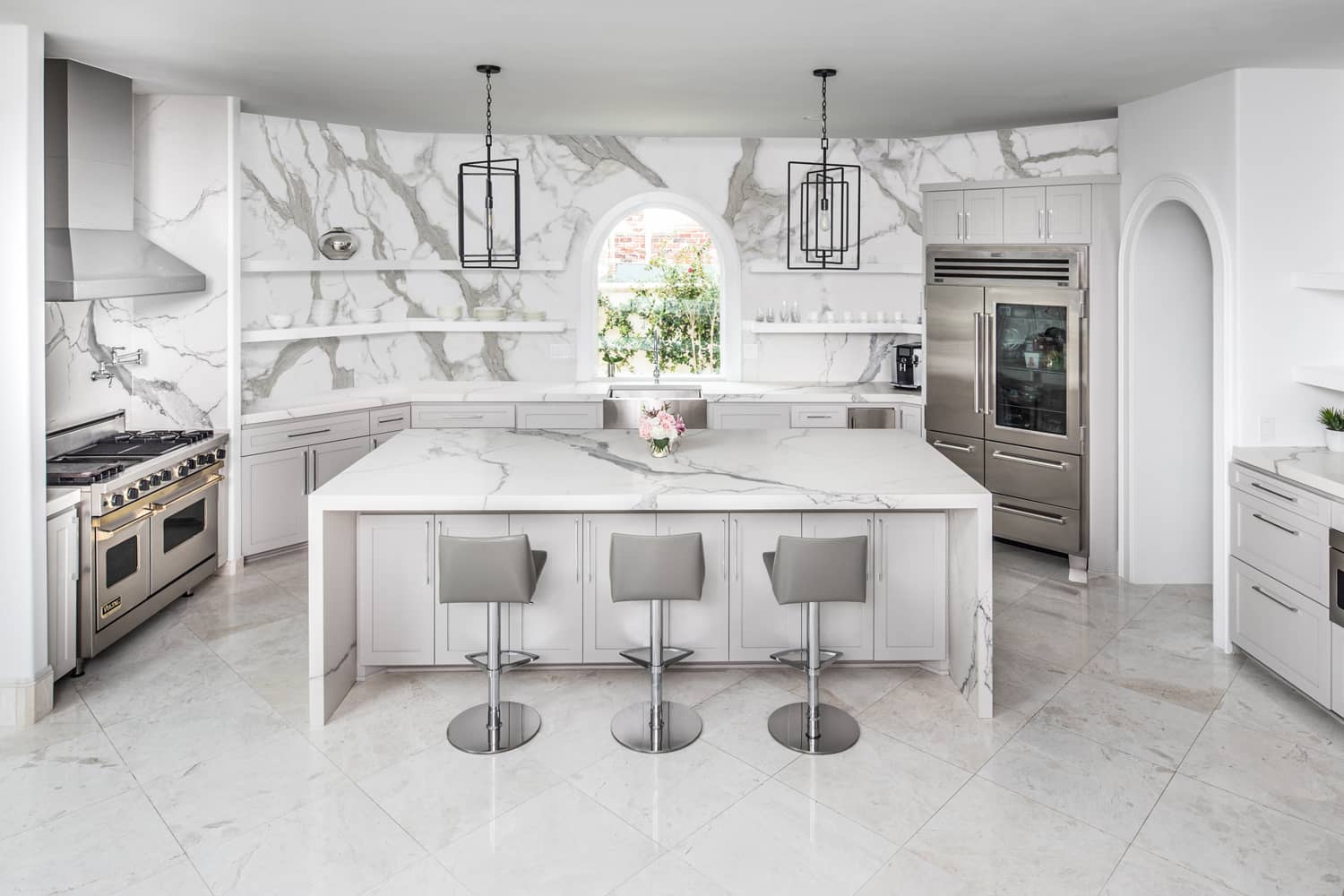 Large-format porcelain is stunning in this kitchen with vein-matched in the color White Classico.